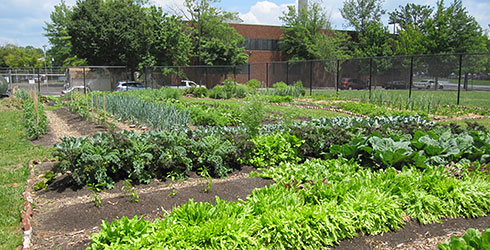 Residents in the City of Trenton, NJ identified abandoned properties as their highest-priority concern. The Trenton Neighborhood Restoration Campaign (TNRC), a group of regional stakeholders which Isles, Inc. chairs, joined with the City of Trenton to develop cost effective and creative strategies to address Trenton's vacant/abandoned properties. ISLES has also identified the potential and demand for more local healthy food options and wants to strategically approach an expansion of food production by leveraging the City's existing efforts to revitalize Trenton.
In order to integrate vacant/abandoned properties into an expansion of Trenton's food and social networks, accurate surveys of existing food options and problem properties are needed. CUES research will confirm existing food options, as well as identify problem properties through reviews of the City's tax rolls and field surveys. Research is needed to gauge community interest with respect to expansion of local food production. A survey of community gardeners will provide information on interest and needs related to their gardening activities. Additional focus group sessions with community leaders will assess the potential for active engagement, as well as information regarding the potential of gardening expansion and/or commercial food production.
The proposed project activities (Geospatial research, database development, mapping, and community surveys,) support ISLES program goals through collection of the baseline data necessary to plan for increased food-related land uses, the potential to strategically expand the existing community gardening program, and by laying the groundwork for Trenton residents to become actively engaged in the regional food system. This research will inform development of a Food System Master Plan Element for consideration in Trenton's 2015 Master Plan update. CUES research will provide ISLES with data that can be utilized to support the City of Trenton in development of long-term land use planning.