March 28–29, 2019 at Rutgers University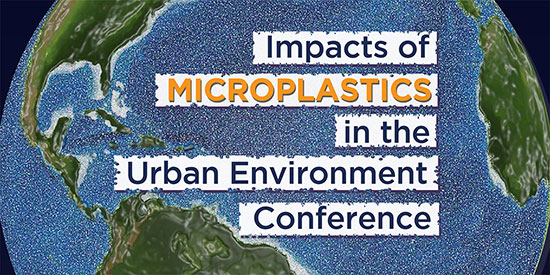 The following conference presentations are available on request. Instructions how to retrieve presentations can be found at this link.
Thursday, March 28 Presentations
Fate and Transport Panel
Dr. Beth Ravit, Microplastics in NJ Urban Waters
Dr. Serpil Guran, Plastic Waste As A Feedstock For Circular Carbon Economy
Dr. Nicole Fahrenfeld, Microplastic Research in the Fahrenfeld Lab
Dr. Abigail Porter, Microplastic is a Vehicle for Transporting Pharmaceutical-Transforming Microbiomes
Dr. Beizhan Yan, Distribution of Microplastics in Waters Around the New York Metropolitan Area and Assessment of their Role as Potential Vectors of Toxic Compounds
Alternative Approaches to Plastics Panel
Dr. Kevin Lyons, Alternative Approaches to Plastics
Christopher Bodkin, Closing the Loop With Circular Blu
John Buonocore, Plastic Removal During Waste Water Treatment
Dr. Tom Nosker, Microplastics Waste Solution?
Toxicology Panel
Dr. Scott Coffin, Plastic as a Vector for Pollutants in Estuarine and Marine Environments
Gina Moreno, Morphometric Effects Of Microplastics On Sac Fry Zebrafish
Dr. Brian Pachkowski, The Potential For Human Health Effects From Microplastics
Dr. Phoebe Stapleton, Transfer Of Nanoplastics From The Maternal To The Fetal Compartment
Friday, March 29 Presentations
Business Approaches to Plastic Waste Panel
Gary Sondermeyer, Plastics Recycling in New Jersey
Mike Arcieri, Global Recycling Industry Issues
Tristanne Davis, Sustainable Packaging Coalition
Tristan Steichen, Introduction to Healthcare Plastics Recycling Council
Chemical Analysis Panel
Dr. Brian Buckley, Measuring Microplastic Unknowns
Dr. Ashok Deshpande, Pyrolysis GC-MS Characterization of Microplastics from the Raritan & Passaic Rivers in NJ
Dr. Sherri Mason, UN Working Group Guidelines and Overview of Processing/Analysis Methods
Dr. Bridget O'Donnell, Raman Spectroscopic Techniques for Polymer Identification in Plastic Marine Debris
Regulatory Panel
Shelly Moore, Trash and Microplastics In California
Ron Vance, EPA's Sustainable Materials Management Program
Next Steps Discussion
Dr. Judith Weis, Improving Microplastic Research
Dr. Keith Cooper, Closing Remarks
---
CONTACT US
For general questions about the conference, contact us at cues@sebs.rutgers.edu.
SPONSORS
We gratefully acknowledge the support of all conference sponsors.
This conference has been funded in part by the National Institute of Environmental Health Sciences (NIEHS) of the National Institutes of Health (NIH). The content of the conference is solely the responsibility of the authors and does not necessarily represent the official views of the National Institutes of Health.