March 28–29, 2019 at Rutgers University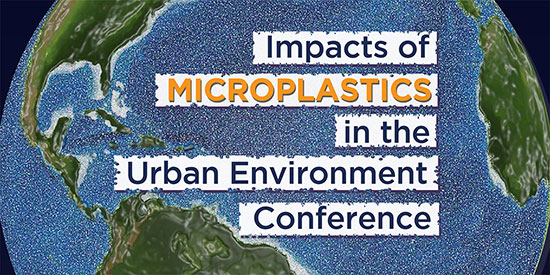 Join researchers, industry leaders, and public regulators as they review the latest scientific findings on microplastic pollution to discuss:
potential plastic waste management strategies
biological effects of microplastics
alternative materials
regulatory issues
critical next steps
collaborations needed to address this global emerging pollutant
Click to Register Now!
REGISTRATION
A registration fee of $40 will partially cover the cost of food. Coffee, tea and light refreshments will be served from 8:30-9:00am on both days. Snacks and lunch will also be provided both days. Student registration is free with a valid student ID. Seats are limited, so register early.
DATE & TIME*
*On-Site sign-in will open at 8:30am on both days.
LOCATION
Ludwig Global Village Living Learning Center
Rutgers, the State University of New Jersey
9 Suydam Street, New Brunswick, NJ 08901
ARTICLE ABSTRACTS
Conference scientific panel speakers are invited to submit a research paper to be considered for inclusion in a Special Microplastics Issue of the digital journal Ames Environmental Science. Article abstracts should be submitted as a Word document by March 1. This Special Issue will be Guest Edited by the conference organizers. Final papers are due no later than April 30, 2019 and will undergo the normal peer-review process. We anticipate this Special Issue publishing before December, 2019.
Submit article abstract here with "Article Abstract" in the subject line.
POSTER COMPETITION ABSTRACTS
All attendees are welcome to submit abstracts for a poster competition. Poster content should address an aspect(s) of "Plastics in the Environment" (such as distribution, fate & transport, microbiology, lifecycle assessment, aquatic food webs, toxicity, materials engineering, alternatives to plastics, recycling, human ecology, citizen science).
The top 30 posters will be displayed at the conference Poster Reception with the following prizes awarded:
1st Prize = $100 and dinner with conference speakers
2nd Prize = $75
3rd Prize = $25
Posters should be 48" wide x 36" high (landscape orientation). Poster abstracts should be submitted as a Word document no later than March 8.
Submit poster abstract here with "Poster Abstract" in the subject line.
PARKING
Free parking is available for non-Rutgers attendees at the Douglass Deck or Lot 70. Avoid a parking ticket by registering your vehicle here. Rutgers uses a parking management system that scans vehicle license plates, so guests who do not register their vehicle may receive a citation. Rutgers Faculty, Staff and Students must park in their usual authorized lots.
Download a printable map of the parking and venue locations.
HOUSING
Rooms may be reserved at The Rutgers University Inn & Conference Center for $99 per night while availability lasts.
Guests may use the Rutgers campus buses for transportation to the Conference venue or downtown New Brunswick. The Katzenbach stop is located at the Inn's parking lot. The university bus system is complimentary to all riders. For transportation directions, click here.
CHILD or ADULT CARE
Free child or adult care is available to conference attendees on both days. To receive additional information and/or sign up for this service, select the Child Care or Adult Care options during online registration.
CONTACT US
For general questions about the conference, contact us at cues@sebs.rutgers.edu.
Business casual attire is recommended.
SPONSORS
We gratefully acknowledge the support of all conference sponsors.
This conference has been funded in part by the National Institute of Environmental Health Sciences (NIEHS) of the National Institutes of Health (NIH). The content of the conference is solely the responsibility of the authors and does not necessarily represent the official views of the National Institutes of Health.