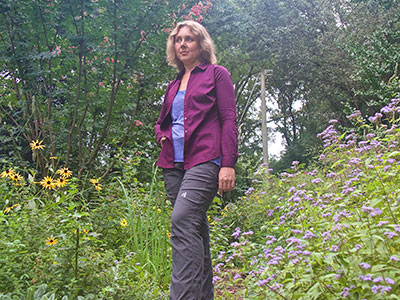 Jean Epiphan is an Ecologist and Research Project Coordinator at the Rutgers Center for Urban Environmental Sustainability. She has studied effects of Superstorm Sandy in Jamaica Bay for the US National Park Service and in forest gaps in Morristown National Historic Park. She also serves as an advising ecologist for landscape architecture projects including Freshkills South Park in Staten Island, NY, St. Mary's Park in Bronx, NY and Laurel Hill Park in Secaucus, NJ. Jean also is a part-time lecturer for Wetland Ecology specializing in field botanical identification and wetland delineation instruction. Her ecological interests involve promoting locally native herbaceous flora and ferns in suburban and urban design for habitat restoration and long-term sustainability.
In Bergen County, NJ, Jean donates her expertise to multiple environmental organizations. She serves as the Land Manager & Director of Stewardship at the Thielke Arboretum in Glen Rock, where she directs all restoration practices, garden design, tree work, and forest conservation. At Thielke, she has established an ecological lecture series and an outreach program where local students learn and perform forest data collection alongside scientists. Jean is also the forest ecologist for the Ridgewood Wildscape Association, which focuses on urban forest education, advocacy, and conservation, as well as an advisor to the Conservancy for Ridgewood Public Lands.
She earned her Bachelor of Science in Forestry at the University of Vermont with a concentration in Geomorphology and a minor in Studio Art. She has earned Rutgers University Extension certifications in Wetland Delineation, Ecological Restoration, and Wetland Construction. Her professional experience includes being a Palisades Interstate Park Commission Ranger and a Field Biologist for the Natural Areas Conservancy of NYC. She has performed field research in much of the greater NY-NJ metropolitan area in a variety of habitats from tidal wetlands to highland forests. Through years of emersion in local ecosystems, she has acquired an intimate knowledge of native plant communities as well as the multi-faced challenges to ecological restoration in human-dominated landscapes.