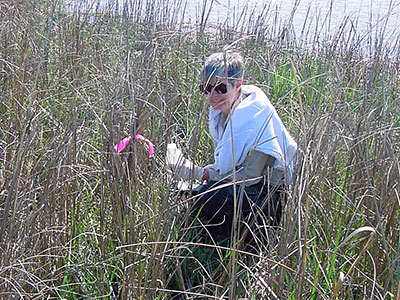 Dr. Beth Ravit spent three decades as a corporate executive before entering graduate school and earning her Masters (2001) and Ph.D. (2005) degrees in Environmental Science from Rutgers University. She joined the Rutgers faculty in 2005 and taught in the Departments of Environmental Sciences, Biochemistry & Microbiology, and Landscape Architecture at the Rutgers School of Environmental and Biological Sciences (SEBS), New Brunswick, NJ.
Dr. Ravit has successfully led scientific and design teams working on wetland restorations in the Hudson-Raritan Estuary. Her specific focus is rehabilitation of the region's wetlands and the re-introduction of native Eastern Oysters to this urban ecosystem. She is currently working on a book about the role New Jersey could play in meeting the restoration goals outlined in the Hudson-Raritan Estuary Comprehensive Restoration Plan.
In 2006 Dr. Ravit co-founded the Rutgers Center for Urban Environmental Sustainability (CUES), a unique collaboration established jointly by the Departments of Landscape Architecture and Environmental Sciences. As co-director of CUES, Dr. Ravit collaborated and coordinated interdisciplinary teams composed of Rutgers faculty, staff, and students who participated in CUES research initiatives.
Dr. Ravit retired from Rutgers University in 2019; however, in her new role as community volunteer, she is still a primary CUES liaison with New Jersey's environmental non-governmental organization (NGO) community.