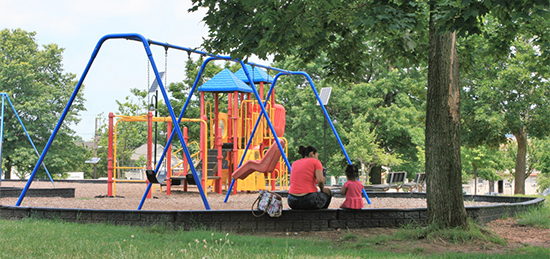 In 2017, CUES partnered with the Trust for Public Land (TPL), the Edward J. Bloustein School of Planning and Public Policy, and the City of New Brunswick to help develop a Parks Action Plan as part of the City's dedicated efforts to provide quality open space and programming for the enjoyment, health and wellness of its residents.
This plan is intended to fulfill the parks assessment recommendation in the City's Blueprint for Action and to help guide several aspects of the management of park assets, including efforts to ensure an equitable distribution of park-planning resources for the residents of New Brunswick.
CUES' primary responsibilities included conducting a rapid park assessment of all 16 New Brunswick public parks using a TPL methodology to evaluate existing strengths and areas of opportunity to better serve New Brunswick residents, and developing park-specific and system-wide recommendations for implementation that synthesize on-the-ground observations, feedback from public outreach, and GIS data.
The full report provides insights on further opportunities to promote community stewardship, enhance existing park programming based on expressed interest from the community, and identify ways to maximize existing park space to better serve the community. It includes solutions that involve strengthening existing and new partnerships, leveraging current parklands, and capitalizing on existing park assets that the community already cares for and enjoys.
This plan paves the way for additional efforts to help New Brunswick create the most robust and well-used park system in New Jersey.