Challenges of Climate Change for Spatial and Environmental Planning – An International Dialogue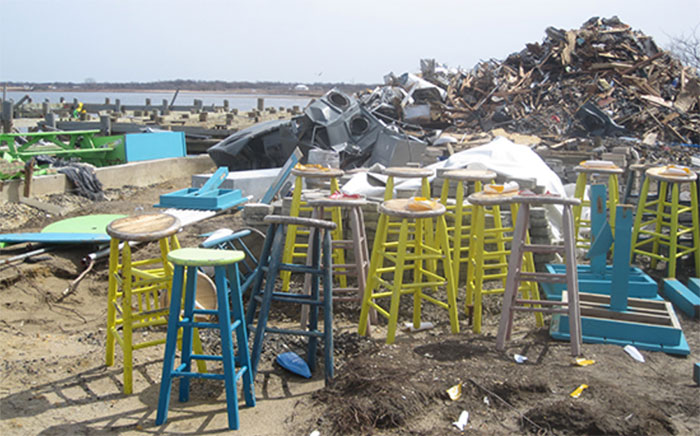 Two-day hybrid conference at Rutgers, the State University of New Jersey, October 14–15, 2021. A collaboration between the Consulate General of the Federal Republic of Germany New York, The Rutgers Center for Urban Environmental Sustainability and the Rutgers Climate Institute.
The Transatlantic Climate Bridge (TCB) was initiated in 2008. As a network of various activities supported by Germany's Federal Foreign Office, Federal Ministry for the Environment and the foreign missions in North America, the TCB aims to stimulate and expand transatlantic exchange on climate and energy policy. Our Rutgers conference will focus on the comparison between New Jersey and the German Ruhr Region.
Climate change is creating new challenges for spatial and environmental planning on both sides of the Atlantic. While seeking to moderate the impacts of climate change from rising temperatures, extreme precipitation and sea level rise, the context of planning and policy must also address growing awareness of social equity and environmental justice. New Jersey's underserved communities are similarly exposed to environmental challenges as their counterparts in the German Ruhr Region, settlement patterns and brownfield issues also show similarities. This has become evident through 15 years of successful collaboration, including summer programs, a landscape Architecture design studio, internships for Rutgers students and publications.
The conference Climate Bridge will foster a collaborative dialogue among planners, designers, scholars, public administrators, and decision makers from both sides of the Atlantic. Scholars from different universities in Germany and the United States will contribute papers and discussion that highlight interdisciplinary approaches to addressing the environmental, economic, political, and social dimensions of planning considering climate change.
Sponsors
Main Funder
The Consulate General of the Federal Republic of Germany New York. Thanks to the support of the consulate, the conference was able to reach people overseas and enrich the conference with interdiscipliary approachs across both sides of the Atlantic.
Partners and Collaboraters
Hybrid Conference Setting
On March 25, Rutgers President Holloway announced the return to campus for the fall semester. All students will be required to provide proof of vaccination. Therefore, it is expected that the conference can happen in a hybrid setting as a face-to-face meeting with an integrated online component for those attendees who cannot make the trip to New Jersey because of COVID-19 restriction.
The conference hybrid format will include keynote lectures, panel discussions, poster sessions, and small round table sessions that will allow for engaged interactions among planners, designers, scholars, public administration, and political decision makers from sites of the Atlantic. The documentation of the outcomes will happen on two levels: All lectures, sessions, and panel discussions will be posted and available after the conference. The second component is a planned publication that will reflect presentations, discussions, case studies and outcomes in a collection of scholarly papers. This book will contribute to the transatlantic dialogue and will enhance the discourse on environmental planning in the context of climate change.