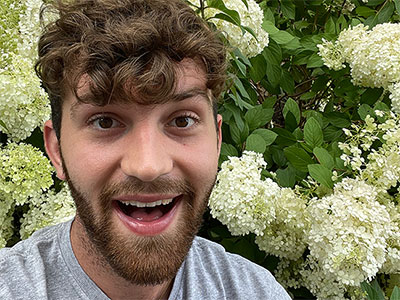 Daniel is a graduate of the Duel Degree Master of Landscape Architecture program at Rutgers University (2021). He earned his Bachelor of Science in Landscape Architecture (2020) at Rutgers University with two minors: Plant Science and Green Technology.
As an undergraduate student, Daniel resided at the cooperative living, Helyar House. He served as the food coordinator of the house from April 2017 - April 2019. Daniel was an active SEBS Ambassador from January 2017 - May 2021. He worked as a tour guide under the Ambassador program from January 2018 - May 2021. Additionally, Daniel was a steward for Cook Campus as a Green Team member from July 2018 - May 2021. He maintained the living labs on campus, focusing his time at Blake Hall, home to the Rutgers Landscape Architecture Department.
As a graduate student, Daniel completed a master's thesis exploring the phenomenon of the American Lawn and challenged the historical, cultural, and societal issues that manifested the lawn to become so pertinent in the US. Honing in on the environmental issues resulting from the lawn, he challenged a new way of designing lawns and how to curate them to be more environmentally sustainable. While writing his thesis, Daniel was a Teaching Assistant for the Landscape Plants, plant identification course during the fall semester of 2020.
Daniel joined CUES after eight years of horticultural experience at Dreyer Farms of Cranford, NJ and aiding the Summit Housing Authority (SHA) in a planting re-design for their low-income housing units. He joined to coordinate the 2021 Climate Bridge Conference, assist in the regional landscape plan for Middlesex County, and manage the Twin Lights View Shed: Historic Site Management Plan. Daniel brings skills acquired from his landscape architecture, horticulture, and landscape management experience to inform sustainable design decisions in CUES Projects.